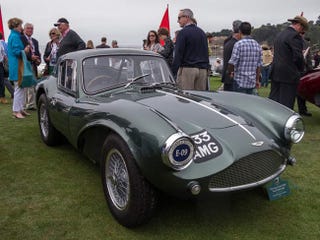 Monterey Car Week is one of the most exciting weeks on the American automotive calendar every year, and this year we at Speed:Sport:Life decided to take a run at covering the prestigious events of the week. Jalopnik generously agreed to let us tag along with their trip, and here's what happened.
Like so many things in any society that truly matter, the automobile stands astride a multitude of social divides. Progress. Freedom. Achievement. Wastefulness. Drudgery. Class division. Every car contains legions of angels and demons in turn, and which of each is dominant depends just as much on the perspective of person doing the observing as the car being observed. One's sculpture of power and beauty in motion is another's wasteful extravagance of wealth, overcompensation and status. An electric car can mean both the death of enjoyment and performance and the salvation of an industry and the environment – depending on your point of view. But what is important is that these contradictions are not rooted in cars, but in ourselves. A car is simply a big shiny lump of metal that can move under its own power across the ground; the meaning we see when we look at one has more to do with the reflection of ourselves staring back than any innate attribute of the mirror itself. And if one automobile can contain so many contradictory viewpoints, then a major car show, being a whole mess of them collected in one place, must be a Gerasene Rorschach funhouse maze – cars, owners, attendees and media, all of us reflections of whatever multitudes you're predisposed to see.

One of the most dazzling series of automotive display events is Monterey Car Week, a few days in August every year where well-heeled automotive enthusiasts descend on the Monterey peninsula to peruse any one of the dozens of auctions, shows, meets and events dedicated to the rare, the valuable, the quirky, and the exotic. The headliner events for the week are the Rolex Monterey Motorsports Reunion, better known as the Monterey Historics and a vintage racing event only equaled in prestige by the Goodwood Festival of Speed in the UK, and the Pebble Beach Concours d'Elegance, a show dedicated to the rarest and most valuable classic cars in existence and only equaled by absolutely fuck all. Smaller shows blanket the peninsula and the calendar throughout the week, and it is the work of a dedicated team of journalistic professionals to even come close to capturing every event of Monterey Car Week.